Family Special Screenings
The ultimate treat for you and your little movie buffs.
Every Saturday and Sunday, enjoy a family favourite for just £5.75 a ticket.
Our Family Special screenings continue from Monday to Friday throughout school holidays and on bank holidays.
Please be aware these screenings are designed for parents and carers with families and young children.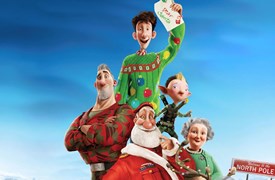 1h 38m | U
Santa and his army of highly trained elves produce gifts and distribute them around the world in one night. But, when one of 600 million children to receive a gift from Santa on Christmas Eve is missed, it is deemed 'acceptable' to all but one - Arthur.
1h 40m | U
Snuggle up in your favourite pyjamas and join us for a magical adventure! A young boy embarks on a magical adventure to the North Pole on the Polar Express. During his adventure he learns about friendship, bravery, and the spirit of Christmas.